Weekly Seminars and Events within the Department during semester times
Other Events
01.10.2018 - 03.10.2018
SFB 1044 workshop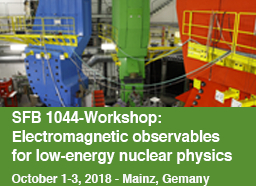 The Institute of Nuclear Physics and the Collaborative Research Center 1044 (SFB 1044) will host this three-day workshop, which is devoted to electromagnetic processes and their role in advancing the understanding of low-energy nuclear physics and related areas. The workshop aims at identifying relevant electromagnetic observables, which should be measured with the upcoming MESA and the MAGIX facilities.For more information on the program and to register for the workshop, please go to the
workshop website
.
04.09.2018 - 07.09.2018
SFB School 2018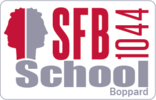 The annual Summer School of the SFB 1044 (The Low-Energy Frontier of the Standard Model) will take place from 4-7 September 2017 at the Hotel Ebertor in Boppard. The program will cover the current research activities of the SFB 1044. Expert lectures will be held on theoretical and experimental physics followed by contributions from graduate students and postdocs working in the SFB). ...
27.09.2018 - 31.08.2018
MITP workshop "Scattering Amplitudes and Resonance Properties from Lattice QCD"


In recent years, Lattice QCD (LQCD) calculations of stable-hadron properties have become considerably more precise, and as a result, LQCD inputs are having an increasing impact on Standard-Model phenomenology. Considering this progress, it is natural to also examine the prospects for using lattice QCD to calculate the properties of unstable hadrons, i.e. QCD resonances that decay via the strong force. The extraction of resonance properties is much more challenging, but also in this sector enormous progress has been made in the development of both theoretical methods and numerical techniques. The aim of this workshop is to bring together experts in developing the formalism and lattice practitioners, in order to review the status of ongoing calculations and discuss future prospects. The workshop will emphasize the future role of LQCD in precision resonance physics, especially in the context of forthcoming experiments. ...